Among software designers, Apple's "Human Interface Guidelines (HIG)" is a very popular document. According to Mike Stern, Design Evangelism Manager at Apple, this document was first released in 1978, and it has been occasionally revised along Mac OS updates until today.
Actually, HIG is written for developers for Mac applications. It introduces the user interface components built in Mac OS and how to use them for implementing appropriate application structure. On the other hand, HIG has been a very important document for designers also because it has been including chapters that explain general philosophy for designing good software user interfaces. Those chapters are always placed before chapters about UI components or technology descriptions.
The philosophy chapters always define some "Design Principles" for making usable and efficient software products. For example, the early version of HIG stated the following design principles;
Metaphors from the real world
Direct manipulation
See-and-point (instead of remember-and-type)
Consistency
WYSIWYG (what you see is what you get)
User control
Feedback and dialog
Forgiveness
Perceived stability
Aesthetic integrity
To designers, this part must be the core of HIG, and the principles have been widely referred by not only Mac designers but also by people who are involved in user interface design, interaction design, software graphic design, design researching, usability engineering, corporate design managing, or any other workings in software industry.
I am working at a design consuting company, and we are designing, researching, and evaluating software user interfaces for our clients everyday. For us, Apple's HIG and its "Design Principles" sound something authoritative and good ol' home at the same time because we love them and we have been edificated so much from them.
However, recently we found that the "Design Principles" part has beed deleted from the newest version of the macOS HIG on the Apple website. The document was updated this early June, behind WWDC17 and the renewal of the developer site. Why? I was shocked, and we have been confused.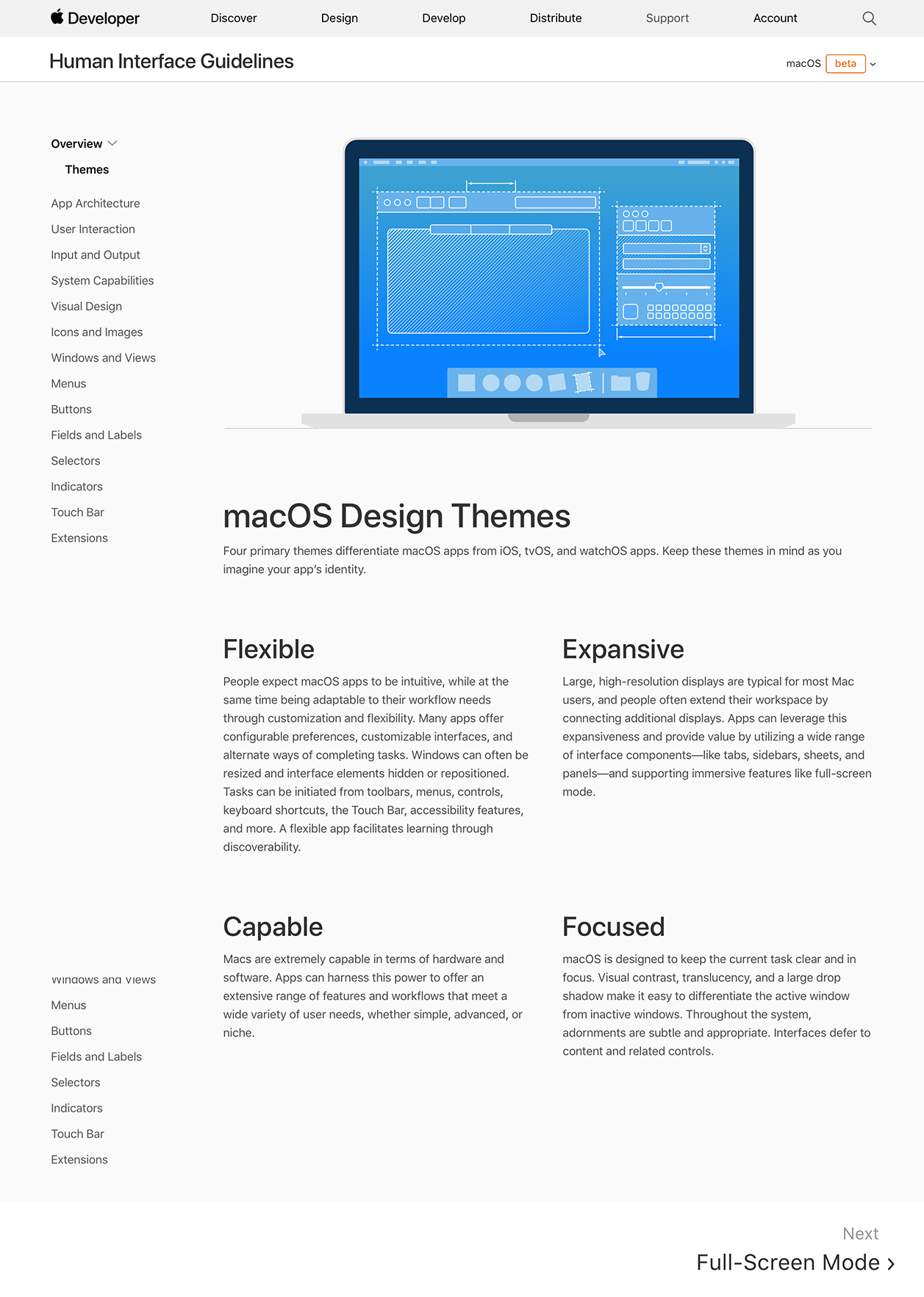 HIG for macOS (June, 2007)
In the iOS version of HIG on the other hand, it still has "Design Principles" fortunately on the first page, but they seem to be treated like something that don't matter.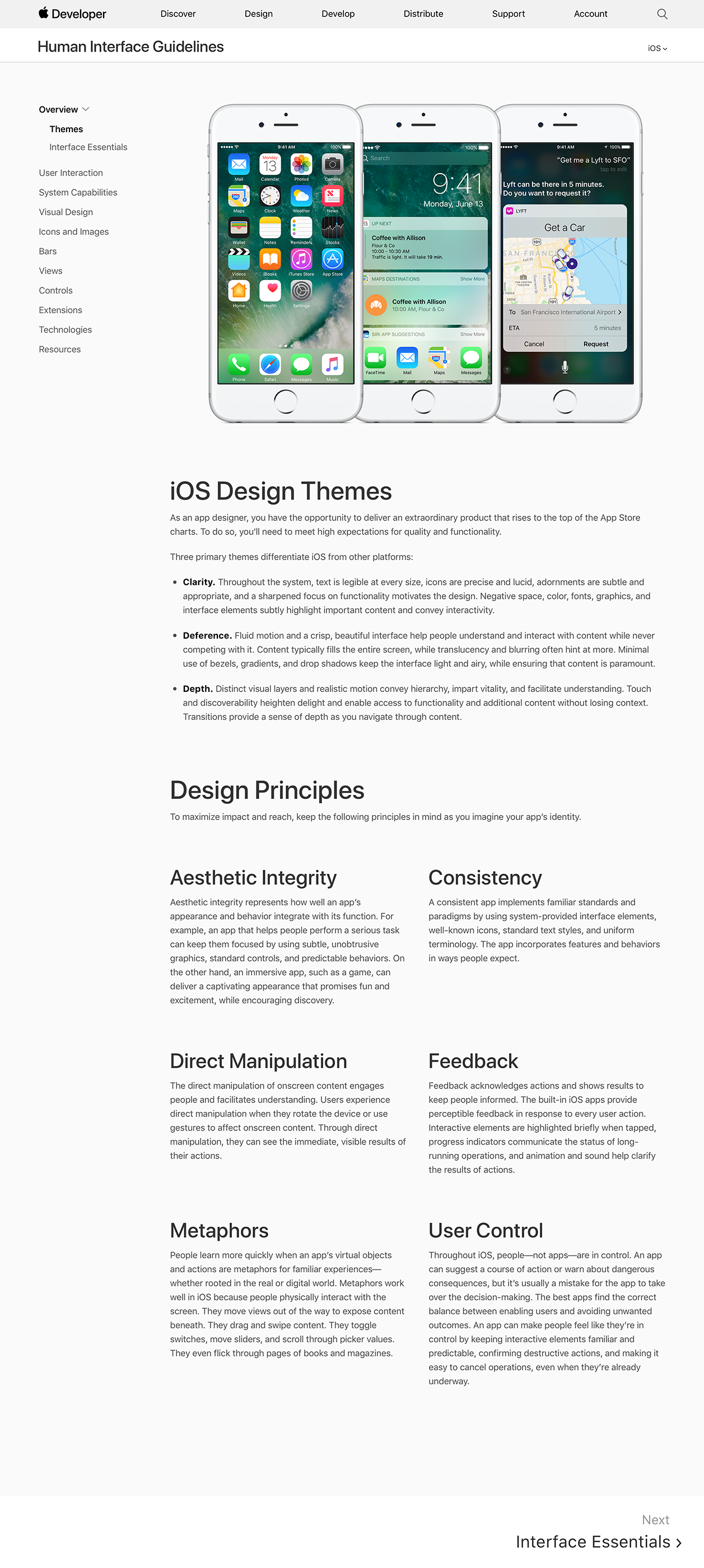 HIG for iOS (June, 2007)
"Essential Design Principles" in WWDC 2017
In WWDC 2017, there was a session titled "Essential Design Principles." This session was introduced by the following excerpt.
Design principles are the key to understanding how design serves human needs for safety, meaning, achievement and beauty. Learn what these principles are and how they can help you design more welcoming, understandable, empowering and gratifying user experiences.
You can watch the video on the Apple developer site.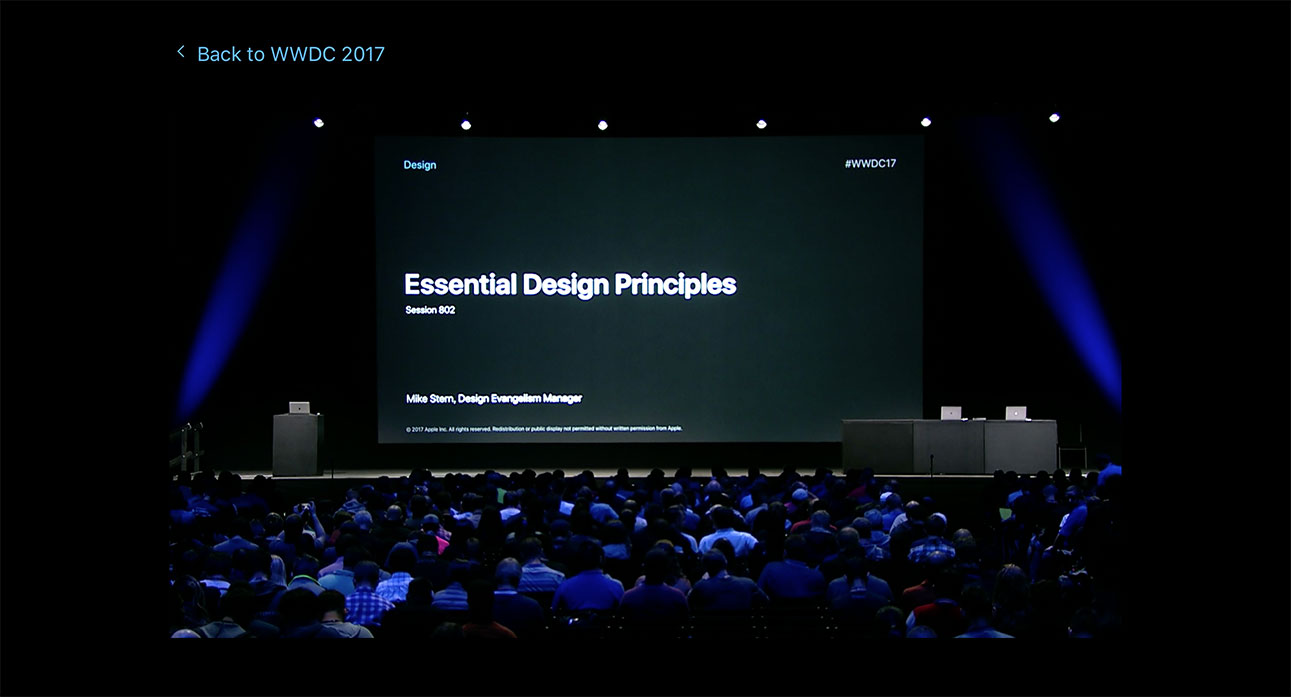 Within this session, the following design principles were described;
Wayfinding
Feedback
Visibility
Consistency
Mental Model
Proximity
Grouping
Mapping
Affordance
Progressive Disclosure
80/20 Rule
Symmetry
This session was good because it made us sure that Apple is still recognizing the importance of design principles. The speaker told that understanding design principles is more important than discussing design technique or design process. The principles themselves, which were introduced in the session, they seemed to be OK, because they were all familiar words and concepts to experienced designers including me. I am sure that new designers should learn those principles to start designing user interfaces.
However, at the same time, I wonder why those? Most of them were not taken over from previous versions of HIG. And – even if they were the new set of design principles that Apple asserts, why did Apple deleted design principles and whole philosophy chapters from HIG? Do they have any active reasons for that?
A History of HIG table of contents
(I have moved the section originally written here to this page to make it as a single article itself.)